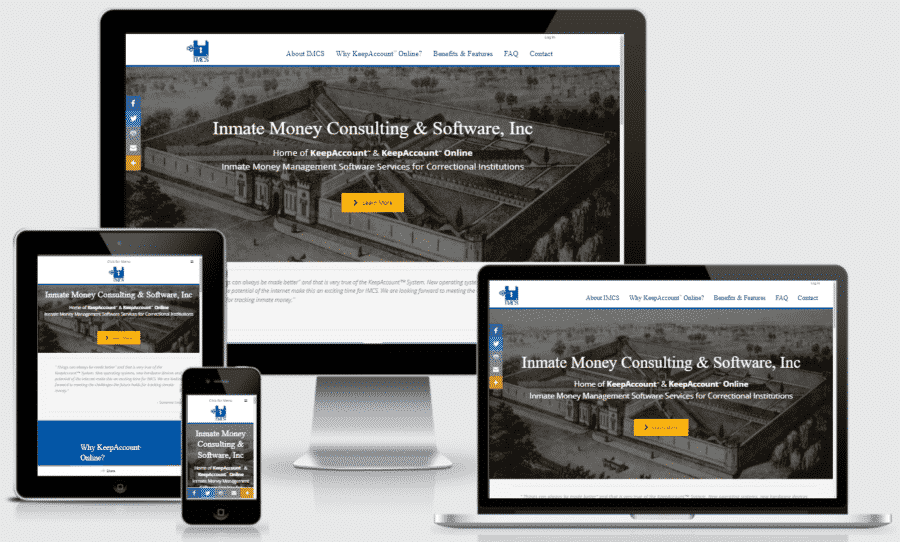 New eCommerce Site for Inmate Money Consulting & Software Inc
The KeepAccount software has been serving prison systems since the 1980's and is being pioneered and modernized by Inmate Money Consulting & Software Inc. (IMCS) to this day. Suzanne Lechner, president of IMCS, has over 30 years experience working in jails and prisons across the United States, Australia, and England, so she is uniquely suited to help prisons overcome the problems they experience tracking inmate money.
They wanted a modern site to reflect all of the upgrades to the Keep Account Online Software. The site is fully mobile responsive and the clean and clear navigation help customers find the exact information they are looking for. The homepage gives you an overview of the software, and the option to purchase a plan if you know what you are looking for. Diving into the site gives you a timeline and full history of KeepAccount decorated with pictures of prisons throughout the years.  
The benefits and features page gives you a clear overview of everything the software contains using large lightbox images so customers get a full preview of what they are purchasing. That along with the easy to understand FAQ and contact page will give customers all of the information they need to make their purchase.
The site is built with a full WooCommerce checkout system with different pricing tiers to reflect the different options available in the Keep Account System. Each tier highlights a different string of available options and is available as a yearly or monthly plan. If none of the tiers works for a client they can choose the Request a Quote option to get a tier customized specifically for them. From the back end of the site IMCS can see and manage all of their orders and all of their actively subscribed clients. 
Working with IMCS was a pleasure and we hope the site helps them keep on top of the ever changing inmate money industry.