… but not every website has.
As I work with a variety of websites, I'm often surprised by the website "essentials" that are missing.  These are items that free and easy to install, yet for some reason many web designers and developers don't include on their websites. 
Website Essential #1 – Social Sharing Buttons
You know what I'm talking about.  These are the  Like, Tweet, Share, Pin, +1 buttons that have proliferated all over the internet over the past few years.  These buttons make it easy for visitors to share content or images with your friends on a social media network of your choice. As long as your content is engaging those social shares will become a significant driver of traffic to your website.  
Social sharing is also a very important factor of SEO, Search Engine Optimization.  The more your content is shared, the higher your search engine rankings.
Commonly Social Sharing Buttons

 
 Want to add social sharing to your website?  Try some of these solutions:
Website Essential #2 – Website Analytics
It's impossible to know how effective your website is without analytics.  
Are you getting 5 visits a day or 5000?  Do visitors to your website stay a while and look around, or do they flee in terror when your site loads up?  
Your websites analytics will tell you this… and so much more.
Adding analytics to your website is fairly easy… and free, thanks to Google Analytics.  Once your account is setup, Google gives you the code to drop into your website. The whole process takes 15 minutes for a web developer to do.  It amazes me how many websites that I work on that don't have Google Analytics or an alternative installed.  In my opinion, that's just lazy.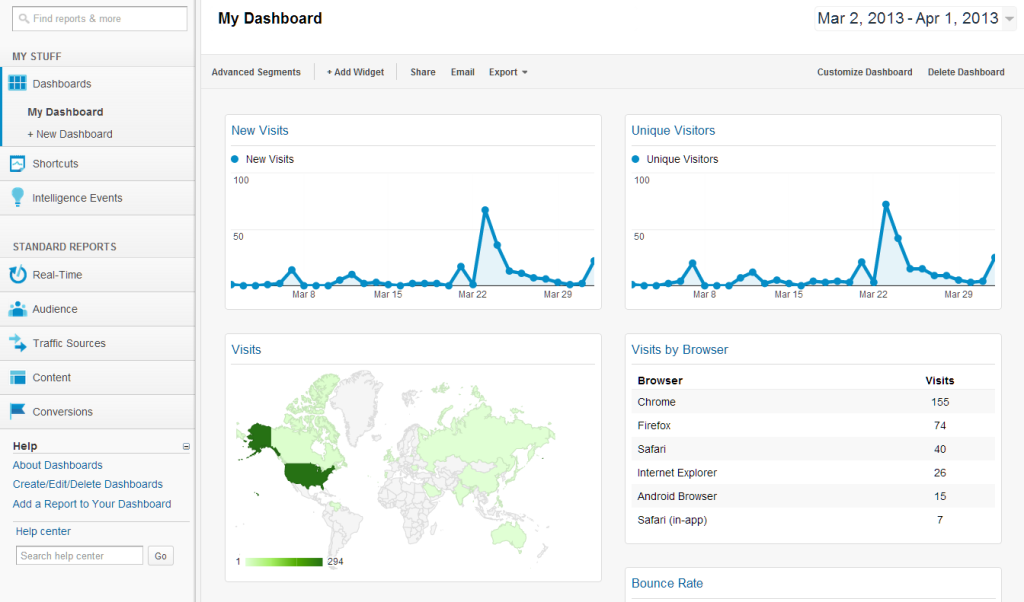 Google Analytics provides all sorts of useful information to you about your website, it's visitors, and their behavior.
Total Visits
New vs. Returning traffic
Avg. Pages per visit
Avg. Visit duration
Bounce Rate – How many visitors leave without clicking on anything
Demographics
Traffic sources
Top pages
And many, many more statistics
Google Analytics is very, very powerful.. and free to use… and it's been around for years.  If it's not on your website, it should be.
If your website is missing either of these two essential items, contact Bootstrap Business Solutions today, and we will help you out!