A Step By Step Guide To Creating An Effective Content Plan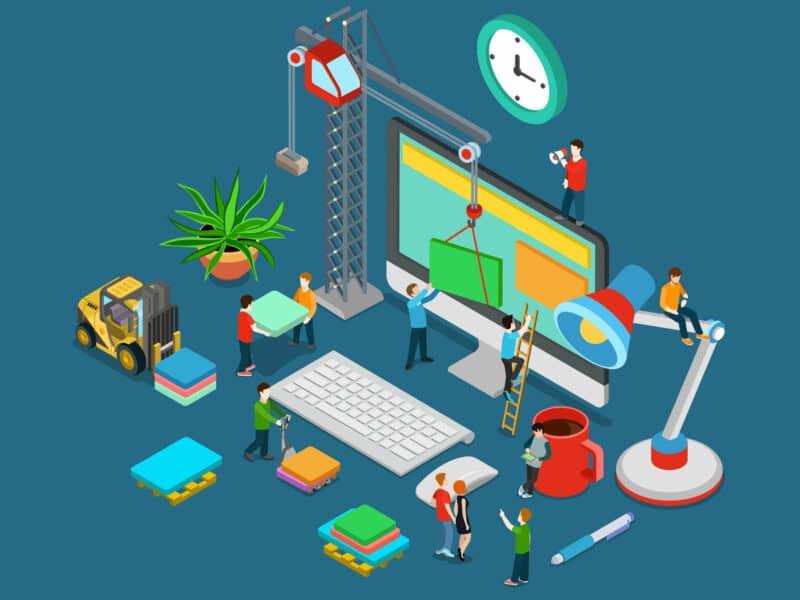 By The BBS Agency
November 16, 2022
Creating a content plan is essential in order to create content consistently, and to ensure that everyone on your team is on the same page. Your content plan will outline all of the assets and data you need to achieve the goals you set in your strategy. When creating a content plan it's important to keep a few things in mind. Always keep your audience and your message at the forefront. What problems are you trying to solve for your readers? What type of content do they want to consume? How often should you be posting different types of content? Once you know the answers to these questions it's time to think about what stage of the marketing process you are at and create a content plan that will target one of the following: brand awareness, keywords, or conversions. No matter where your customers may be in the marketing funnel, you should be able to supply content that properly illustrates the purpose of your brand and product. If you have any questions about creating an effective content plan or want us to do it for you, reach out to us at Prebuilt Sites or The BBS Agency. We'd love to help you out!
A content plan determines the content you hope to create and sets expectations for how it should be created. Your content plan will outline who's responsible for making the content, what the content's purpose is, and how the content will impact your overall content strategy.
Content plans support your marketing activity and help you target potential customers at all stages of their buyer journey.
To understand your customer's buyer journey, check out our guide to the content marketing funnel. Building your own content marketing funnel will benefit you as you work with the content plan template in this guide.
Why You Need a Content Plan
Creating engaging content consistently is part of successful marketing. Planning your content makes it easier for your teams to collaborate on, create, and share content.
A good content plan helps you create content that drives traffic and sales. One piece of popular content — regardless of type — can generate buzz long after you've created it.
Content plans also help you tackle important business strategies, like preparing a budget or requesting resources. You'll know what you need to develop and share your content, so you can easily avoid unnecessary costs or delays.
What Is the Difference Between a Content Plan and a Content Strategy?
If you've already created a content strategy, you might think that you're covered. In reality, content strategy and content planning are two different concepts.
Your content strategy directs all of your marketing channels where your content lives. It's where you outline all the different marketing goals you have and how you plan to achieve these goals.
When your strategy's ready to go, you'll turn to content planning to determine how you'll execute that plan. Your content plan will outline all of the assets and data you need to achieve the goals you set in your strategy.
You'll use your content plan to research, create, publish, and track your content. Each step of the content creation process should be addressed by your content plan.
Content Planning: How to Create a Content Plan That Brings Results
According to research from the Content Marketing Institute (CMI) and MarketingProfs, companies that have a content plan are more likely to feel like their content is successful than those that don't.
Of course, every company's content plan will look and function differently, but your content plan should cover some main commonalities.
A Content Plan Template That Works
To create a content plan that earns results, you'll need to answer 6 questions:
Who is your content for?
Where will you publish your content?
What problem does your content solve?
Why is your business different?
How will you deliver your message?
How will you create content?
1. Who Is Your Content For?
No matter the channel, your content needs to resonate with your audience to be successful. Your best first step is understanding who already consumes your content.
Gather as much data on your customers to better understand them, what they expect to see, and how to engage them. There are many ways to gather customer data, including conducting market research or pulling from web analytics tools, like Google Analytics.
To find audience information with your Google Analytics dashboard, select "Audience" in the left navigation panel. The Audience report offers insights into your audience's age, gender, education, and even interests.
Understanding your customer's interests is a great way to anticipate the content they want to see. If your customers are interested in "affinity categories" like pets & dogs, you can plan to publish content that includes or features dogs.
Remember that one type of content won't necessarily work on all platforms. A dog-related post might work on social media, but may not be suitable for an email.
If you are publishing your content on multiple channels, like email, social, and your blog, your content plan may need to include more than one type of audience.
2. Where Will You Publish?
Consider where your audience spends their time. You now have customer data, so you understand your audience's interests and demographics, but even this won't tell you what channels your customers use to find you.
To find this information, you can use the Traffic Analytics tool. Select "Traffic Analytics" in the main toolbar on the left panel. To see your own analytics, type in your domain in the text input.
The tool returns a wealth of information, easily organized via the report tabs. You'll have insight into how many monthly visits you receive, which marketing channels are driving traffic to your website, and what countries you're earning your traffic from.

Photo: SEM Rush
You'll also be able to track what websites users visit when they click away from your website, which could help you track if you're losing any traffic to your competitors.
Traffic data doesn't tell you is where those visitors are in their buyer journey. One customer coming from an organic search may already be familiar with your product whereas another coming through the same channel may never have heard of you.
When creating content for one marketing channel, you'll need to plan for all stages of the marketing funnel.
3. What Problem Does It Solve?
Successful content not only needs to reach your audience, but it also needs to inspire them to take action by illustrating how they can benefit from your product or services.
Ask yourself if what problems, if any, your products or services help customers solve. You've used your customer data to understand what they like and what they're interested in. You'll also need to understand what they dislike, the problems they counter, and what they hope to avoid.
One way you can gather "problem" data is by researching the questions people ask about your product or industry. Thare are a few keyword research tools that can track common search queries or questions, like the Keyword Magic tool.
Open the tool and start with a target keyword related to your product or service. For this example, we searched for the phrase "tennis shoes:"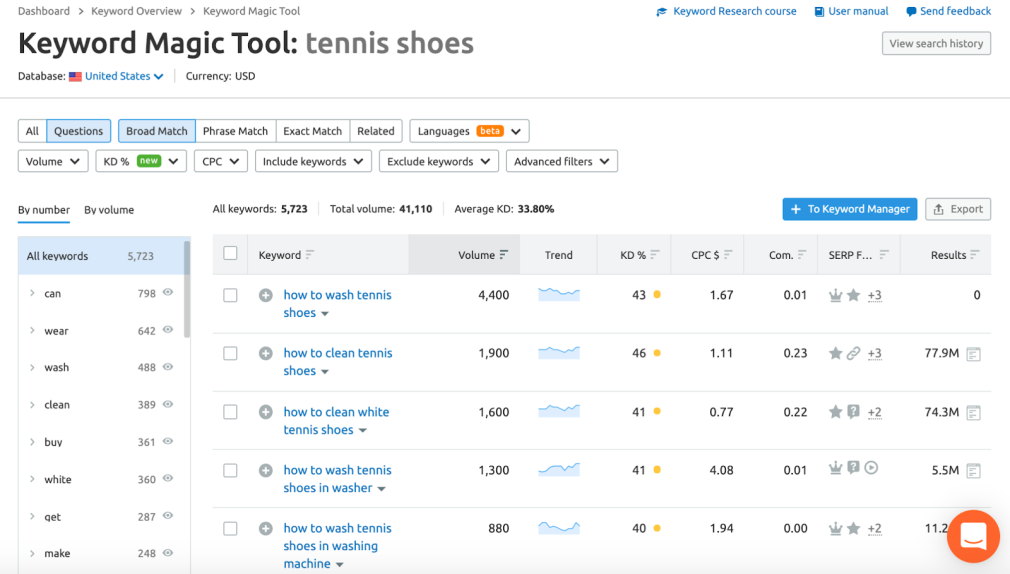 Photo: SEM Rush
The tool will return a list of related keywords and their metrics, like their average search volume, keyword difficulty, and any features included on the SERP page for the keyword. Use the toolbar to filter the results to questions, and you'll see the most frequently searched for questions related to SEO.
In this example, "how to clean tennis shoes" is searched for 1,900 times per month. People searching for this phrase have a clear problem (dirty tennis shoes) that they want to solve. They're likely in the beginning stages of their buyer journey, and are looking for solutions or help.
You could create a guide to cleaning tennis shoes at home, or develop a landing page for your special shoe detergent. The idea here is you're using your content to educate or engage your audience about their problem and offer them a solution.
4. Why is Your Business Different?
Likely your competitors are already creating content of their own about their products and services. It won't be enough to plan your content around offering another solution in a sea of many. You also need to show them why your solution is better than others.
Ask yourself what makes your product better than or different from your competitors. These points — known sometimes as "unique selling propositions" (USPs) — should be included in your content so customers understand how your product adds value to their lives.
If you aren't sure what sets you apart from your competitors, you can start by looking at all of the top content for your industry. Use the Topic Research Tool to understand what type of content ranks for a topic in your country.
The tool generates questions, related topics, and top content related to the keyword you enter. This data will help you to identify all the content that is working for your niche, which you can then analyze to see how you can improve on it.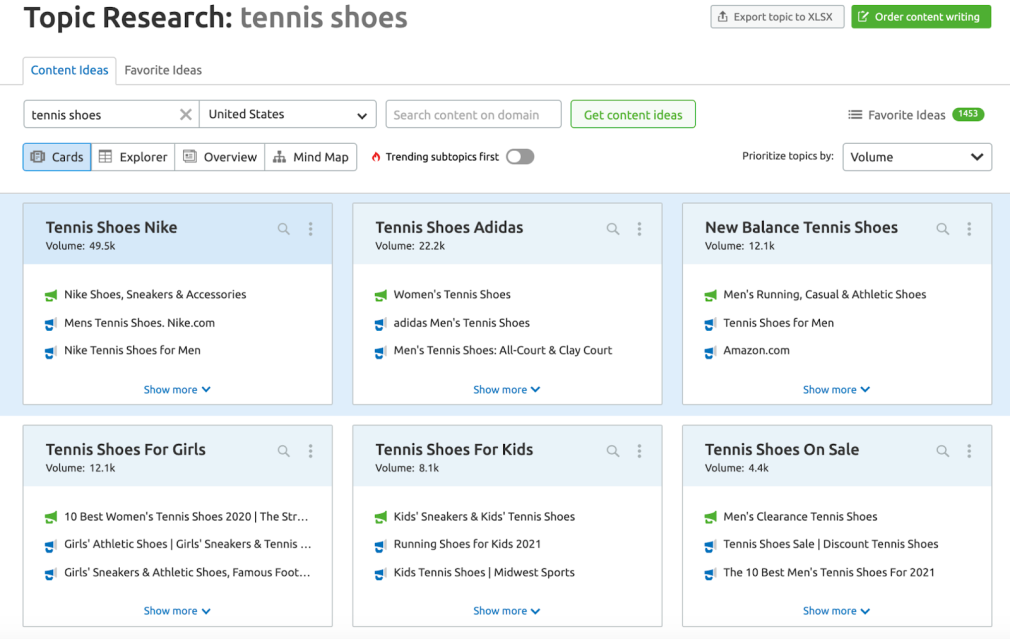 Photo: SEM Rush
Pay special attention to the content formats you notice. Is one type of content working better than another? Are videos or images dominating search results?
5. How Will You Deliver Your Message?
The format of your content should consider your audience, message, and platform. Your content plan will likely include different types of content formats.
Ask yourself what types of content have been successful on your marketing channel. Are blog posts more popular than emails? Are emails more popular than whitepapers?
You should also consider what's actually suitable for your audience and message. Even if a content type is popular, it may not always be the most effective way of sharing your message. Use any data you've gathered on your customer's preferred channels and interests, as well as any traffic sources you notice from your research.
Your content plan should include a mixture of text, video, images, and more depending on what channels you are operating on and how your customers browse.
6. How Will You Create Content?
Once you have planned who your content is for, where it will be published, what messaging it will have, and what format it will be in, it's time to schedule its creation. The creation and publication of your content is an important final step in getting your content seen and driving results.
You need to figure out who will be responsible for creating the content, and how. You'll also need to understand how and where you'll publish the content once it's created.
It's important to plan for these steps to help you to manage budgets, workloads, and workflows across teams. It will also make sure your content is published at the best time to drive engagement and potential customers.
3 Types Of Content Plans
Depending on the marketing funnel stage you're targeting, your content plan may need to target:
Brand Awareness
Keywords
Conversions
Content Planning For Brand Awareness
Increasing brand awareness is a common business goal. Creating top-of-the-funnel (TOFU) content is one of the best ways to put your brand out there and earn recognition.
What Is TOFU Content?
Brand awareness (or TOFU) content is created to show your potential customers that your brand and product exist. It's more about selling your brand, not just your product.
You want these customers to become familiar with the name of your brand, as well as the qualities that set your brand apart. These are people who likely don't know anything about your brand or your product.
What Should TOFU Content Do?
Educate an audience about your brand and your products
Showcase your company values
Provide information and value
Avoid "sales talk"
Show your product as a solution to the customer's problem
Example Of Brand Awareness Content
The most common form of TOFU content is social media. You have an opportunity to connect with communities and showcase your brand.
An example of a brand that used TOFU content successfully is Deadpool. The Deadpool franchise used social media to raise awareness of their movies and even created a Tinder profile for the titular character.
Content Planning For Keyword Rankings
Increasing the number of keywords you rank for can help you to drive organic traffic through Google and other search engines. It will be nearly impossible to rank for keywords without publishing content that targets them.
What Is SEO Content?
SEO-optimized content has been modified to target a particular search term.
This type of content isn't about selling your product or your brand to your customer. Instead, you're focusing on "selling" to Google. You want to show Google that you have the answer to the searcher's query by using the keyword in your content.
It'll take more than just stuffing your keyword into your content. You'll start by finding the right keywords to target with keyword research.
You'll target all stages of the marketing funnel with SEO content based on the type of keyword you choose. Check out our guide to the different types of keywords to understand what types of people they target.
What Should SEO Content Do?
Target specifically chosen keywords, identified with keyword research
Match the search intent of the keyword
Mirror type of content currently ranking for your keyword
Provide informative and educational content
Show potential customers that there is a solution to their problem
Example Of SEO Content
Blog posts and articles are the most common form of SEO-optimized content. Blogs are usually informative and educational and can answer the searcher's query without trying to sell to the customer directly.
For example, the Healthline website consistently ranks on page one for health-related search queries by creating well-referenced articles that answer multiple questions per post.
Content Planning For Conversions
Increasing the number of sales you get is the ultimate business goal. Although content isn't always prioritized at the bottom of the marketing funnel, it can actually lead to a direct sale.
What Is BOFU Content?
Bottom-of-the-funnel (BOFU) content targets the parts of your audience that are ready to buy or take action.
BOFU content sells your product directly and wants to convince your audience that it's a solution worth spending on. Here, you want to convert visitors and subscribers into customers.
The people you are targeting with BOFU content are at the bottom of the marketing funnel. These are people that know exactly what they are looking for but could be open to different brands. Though they might know about your product type, they probably don't know about your company or why your product is better.
What Should Conversion Content Do?
Use power words
Get straight to the point with what you want your reader to do in the first paragraph
Use visuals
Emphasize value over processes
Be specific
Have repeated CTAs or clear CTAs
Example Of BOFU Content
The most common form of conversion stage content is email marketing. With emails, you are directly reaching a potential customer that has signed up to your mailing list. They have already expressed interest in your product; you just need to convince them to take action.
An example of BOFU content would a landing page about your special shoe detergent. This landing page would include a clear CTA, a list of benefits to using your shoe detergent, and any convincing deals that encourage the user to click the "buy" button.
Measuring Content Success
Creating the right content and publishing it in the right places is important, but you'll need to be able to measure its success too. Once you begin publishing content, you need to add a plan for monitoring performance.
Plan to monitor your content in consistent intervals after it has gone live so that you can assess its impact. Look at specific metrics that are relevant to your types of content, like the share of voice for blog posts, engagement levels for social posts, the open rate for emails, and the bounce rate for landing pages.
To get this information you can use data tools like Google Analytics and Semrush. Tools like Keyword Manager will help you to track rankings of page content that you create, while the Social Media Tracker will monitor comments, shares, and what your competitors are posting.
Key Takeaways
Your content plan is an important part of developing your engaging content that converts. No matter where your customers may be in the marketing funnel, you should be able to supply content that properly illustrates the purpose of your brand and product.
Try building a content plan to focuses on each stage of the funnel, and use research to better understand where your audience is and what interests them. With a little planning and plenty of effort, you'll see a real change in the quality of and reception to your content.
Originally published on SEM Rush.