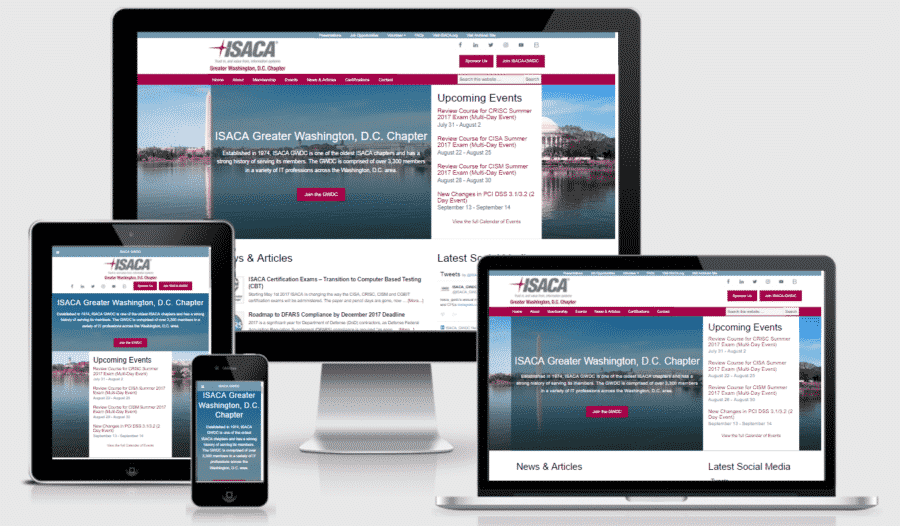 New Website For ISACA GWDC
The ISACA Greater Washington, D.C. Chapter (GWDC) was founded in 1974 and was the fifth of ISACA's 200 chapters. ISACA as a whole began in 1967 when a group of IT professionals realized they needed to come together and create a centralized source of information in their new, and rapidly growing field. GWDC has won many awards from ISACA marking their strength as a local chapter. Since 2000 they have been rated the Best Very Large Chapter in North America 4 times and received 2 honorable mentions, they were also ranked the Best Very Large Chapter World-Wide in 2002, and 2003. They have long been at the forefront of technology so making sure their website was as modern as possible was a must to reflect their goals. 
The site is 100% mobile responsive so anyone on any device can access all of the information that they have to offer. The site is simple and perfectly reflects the atmosphere of the Washington, D.C. area. It is easy to use and navigate, and makes finding any and all information about their chapter, upcoming events, or current news in the field a breeze. The site includes their goals, bylaws, and instructions to join, so no matter what facet of ISACA you are interested in, you will be able to find it.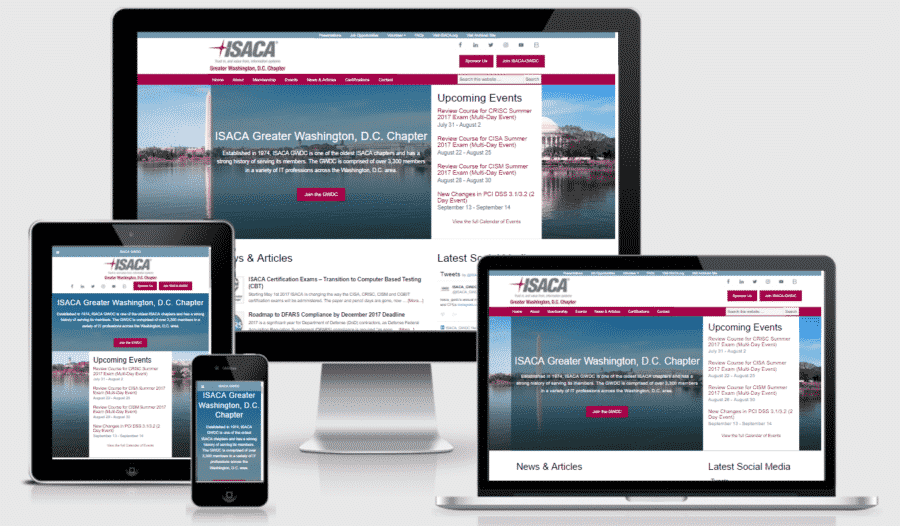 They have a built in full events calendar so you can see all their events clearly and even add them automatically to your personal calendar. We also built their lead gen forms so that they will only go to the people that need to see them. It even includes a full library of all of their past presentations and a link to their old site, so none of their information was lost when we moved them over. The site is a great source of information for anyone interested in the GWDC ISACA chapter and the many benefits they have to offer.