New Pipeline Inspection & Rehabilitation Website for Aries Industries
By The BBS Agency
February 22, 2019
We are proud to announce the launch of the new Aries Industries website. Aries delivers durable video pipeline inspection and rehabilitation systems that measure up to your toughest challenges. Aries maximizes your productivity with innovative products, backed by expert service professionals. 
Since the 1980's Aries has been creating and delivering innovating solutions that drive the whole industry forward. Even if you don't work in the industry you have likely heard of the 33 miners trapped in the Copiapo Mine in 2010. Aries' commitment to problem solving shone through when their video camera was used during the rescue of the miners.  
They are at the forefront of the technological developments in their industry, so we wanted to give them a website to match. The new site is modern, mobile responsive, and clearly highlights how their products can help.
Aries is a true expert in their field and we made sure their homepage reflects their knowledge. Right from the homepage you are just a click away from: viewing any of their product catalogs;  calling or emailing them directly; getting information about an upcoming event; reading recent company news; or reading testimonials to see ways Aries has helped others. 
When you are ready to truly dive in to their products you will be greeted with a visual flyout menu that shows their full range of products and services: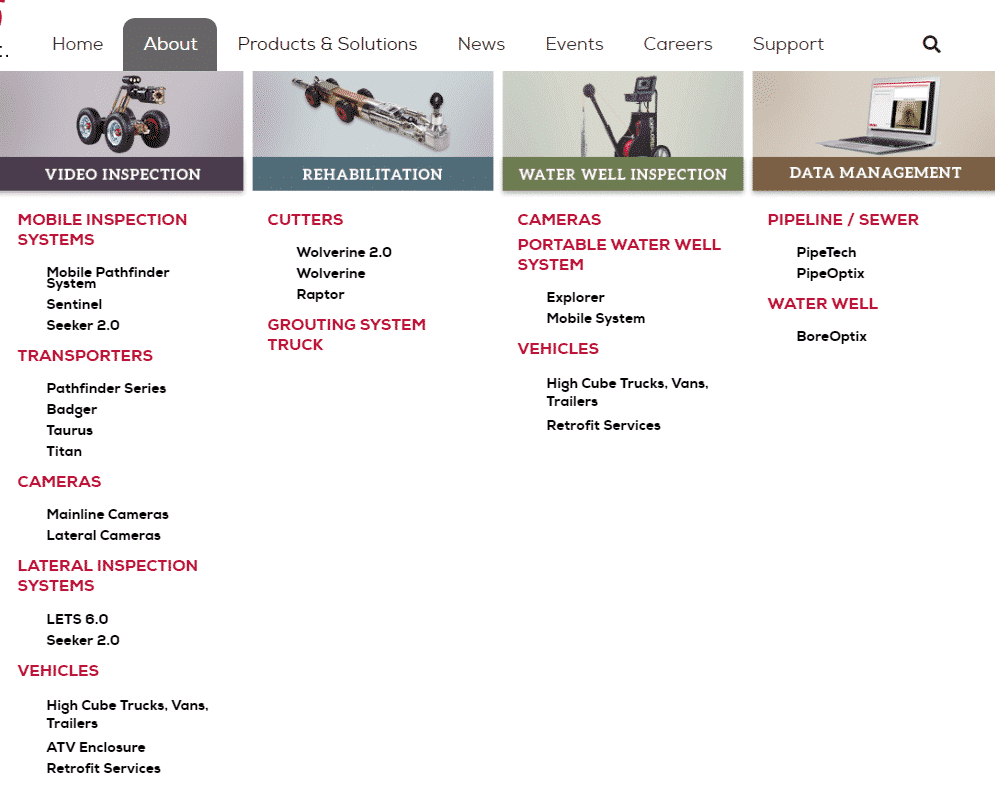 Each product page has a list of their products that work with it so you are never left guessing, and a product brochure to give prospective customers as much information as possible. Some products have an embedded video that highlights exactly how the product works. Once the customer is sold an on-page contact button is all they need to click to be connected to an Aries dealer. 
Aries' new website is for more than just sales, it also functions as a knowledge base and a recruitment tool. They have dealers across the country who need access to product information and other documentation. We got all the documentation gathered and organized into an easy-to-navigate knowledge base that is only accessible to their dealers. Once it was working for the dealers we integrated it with their existing ZipRecruiter so the site lists all available job openings. 
Aries' website is now a reflection of their vast knowledge of the industry that we hope works as hard for them as they do for their clients. If you are in need of pipeline inspection or rehabilitation, please check out  https://www.ariesindustries.com/  for your pipeline needs!